Ronald Jean
Guitarist-Composer-Songwriter; Music for All Occasions
Native Arizonan Guitarist
The Bio
Contact: akiramusic@msn.com or call 480-833-7346 or 480-234-9143 (cell)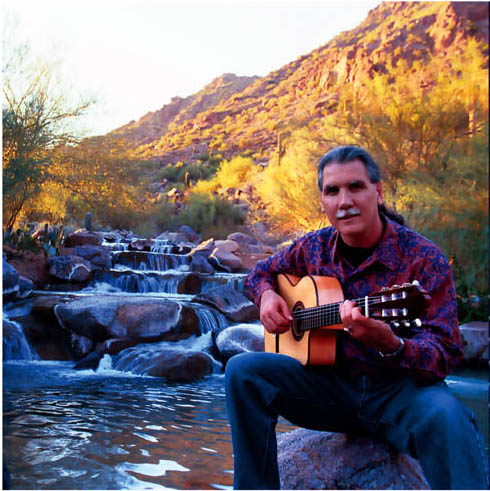 Home | Music | Bio | Guitar Player For Hire

Ronald Jean's Videos on YouTube
Ronald Jean has been captivating audiences in the Arizona Valley with his instrumental guitar music since the 1980s. Prior to playing at the finer resorts in his native Arizona, Ronald was entertaining in Hawaii alongside the more popular local artists at the time.

To the discriminating ear, one can detect influences of Jazz, Latin, Pop and Classical music - all attributing to his eclectic, smoothly-blended style. An often repeated comment of his listening audience, wherever he performs, is that his guitar-playing is extremely soothing and relaxing to the ear, beautiful music.

Ronald's extensive repertoire has been cultivated over the past few decades to include the most popular tunes dating to the early 1900s! A sample of some of the artists whose songs he can cover include: Gershwin, Cole Porter, Jerome Kern, Jobim, the Beatles, Jimmy Buffett, Bob Dylan, Simon & Garfunkle, Van Morrison, Billy Joel, Elton John, the Eagles, Carlos Santana, Sheryl Crow, Enya, the Doors, Norah Jones, John Mellencamp, Train, Creed, Henry Mancini, Shania Twain, Coldplay, Extreme, Uncle Cracker, Jack Johnson, Lynyrd Skynyrd, Louis Armstrong, Eric Clapton, Neil Young, Sade, James Taylor, America, Sting, Croce, Andrew Lloyd Webber, Sondheim, Feliciano, Ottmer Liebert, Matchbox 20, Fleetwood Mac, and Willie Nelson, as well as many popular tunes from smooth Jazz, traditional Classical and Spanish Classical genres. While Ronald cannot claim to know every song written, he is able to satisfy most requests.

Also recognized for his work as a composer (with 2 CDs currently available), Ronald's music has been recorded and played by other artists in the Valley, and is sometimes used as source music in film and television. Just as his routine playing is thought to be soothing, his original compositions have been described as providing a cool and soothing effect to his listeners.
Ronald Jean
15606 E. Richwood Ave
Fountain Hills AZ 85268
480-833-7346
Cell: 480-234-9143
E-mail: akiramusic@msn.com
www.theguitarman.com
Home | Music | Bio | Guitar Player For Hire
Designed & Promoted by ClassicHits